Cultivate is the 2nd ending theme for Hai to Gensō no Grimgar anime adaptation. It is performed by (K)NoW_NAME, that also performed the opening theme and the first ending theme.
Characters
In order of appearance:
Lyrics
TV Version
fuzake atte waratte
kizutsuite naite
onaji toki o ikiru

sonna isshun ga nichijō ga
daiji na omoide e to
kawari yuku yowake wa kiseki ni naru yo

itsuka miteta sora ni utsushita
boku no kage ni mirai no kaze ga fuku
ashita mata ne aete yokatta yo
tōku tōku aruite kita michi wa
mata atarashī sekai e

deai wakare koete kitanda yo
hitotsu hitotsu kasanete kita hibi wa
mō nakusanai kioku e
ふざけ合って笑って
傷つて泣いて
同じ時を生きる

そんな一瞬が 日常が
大事な思い出へと
変わりゆく夜明けは 奇跡になるよ

いつか見てた 空に映した
僕の影に 未来の風が吹く
明日またね 会えて良かったよ
遠く遠く歩いてきた道は
また新しい世界へ

出会い別れ 超えてきたんだよ
一つ一つ重ねてきた日々は
もう失くさない記憶へ
Video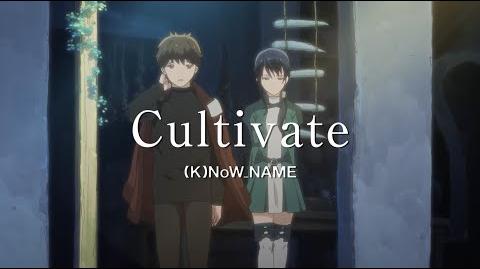 Ad blocker interference detected!
Wikia is a free-to-use site that makes money from advertising. We have a modified experience for viewers using ad blockers

Wikia is not accessible if you've made further modifications. Remove the custom ad blocker rule(s) and the page will load as expected.