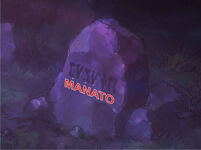 Some written information is present in this anime starting with episode 1. Runes are similar to letters. Decoding is based on the inscription on the gravestone of Manato (ep.5 0min:12s). There is the same number of letters and letter "A" is used twice. It presumes English (Latin) alphabet is used and letters are directly encoded by some runes.
Most informative episodes for alphabet decoding are views of the job request board in episode 1 (12min:21s), episode 9 (10min:25s). Inscriptions on the posters help to decode most of Latin alphabet because English language is used. Some letters are represented by more than one rune. For example letters A D L N are codded with symbols and mirrored symbols.
A lot of the runes are rotated or partially cut-off ordinary Latin letters, which simplifies the decoding.
Here is screenshot of the poster board and its translation:

English words which can be found:
MANATO, RED, MOON, REWARD, GOLD, WANTED, LYCANTHROPE, UNDEAD, DEADSPOT, GARUDA, VAMPYRE, DULLAHAN, GOLEM, GARGOYL.
Latin (English) to runes:


However some letters cannot be found in English words. Letters "I", "K" and "B"can be decoded from handwriting of Manato (ep.3 18min:33s). But some letters (F J V X Z) cannot be found easily and there is still no complete match for the Latin alphabet and the runes of the anime. Punctuation marks are also not known.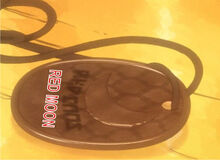 There are a few important "messages". One is words "Red Moon" on coins and badges. We can expect the Sky and the Moon in particular have some extraordinary meaning for the physical world of the anime. The second is the text in (presumably) a diary written by Manato before his death (ep.3 18min:33s). However this text is at least partially in Japanese.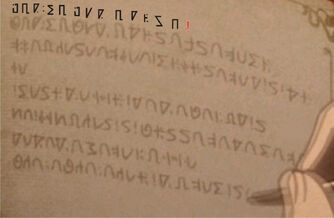 The following is an attempt to decipher the screenshot to the right, using and improving on the character table above.
GURIMUGARU DE NO_NO_AME
KyOU HA NAO_ HAJIMETE NO KARI NI DE-
TA
IMA NERATTE! DORO GOBURIN
SOITtSU HA NIN'GEN NO KOROMO K[e-]
DARURU WO KABUTTA
GHUJU GHUJU HAE'RU KAMI N[o ke]
Approximate meaning:
"?? in Grimgar
As of today, we went out on our first hunt.
Current target: the Mud Goblin.
It wears sloppy human clothes, its hair is all messed up..."
Future insight: some prediction regarding the future plot of the anime can possibly be made by comparing quest board content in episode 1 (12min:21s), and episode 12 (17min:58s) where the poster for the Deadspot monster is removed. The poster for Lycanthrope (werewolf) is also gone. The second season could possibly be linked to the remaining monsters: Dullahan (headless knight), Golem (clay made monster), Gargoyle, Garuda (bird-like creature), Undead, Vampyre. It is possible that instead of following the plot of the light novel, the anime will concentrate on (or at least include) fighting these monsters.