sun will rise is a song used in the 9th episode of Hai to Gensō no Grimgar anime adaptation. It is performed by (K)NoW_NAME, that also performed the opening theme and the ending theme.
Lyrics
Let it all out
I'm right here
Don't be afraid to cry

Don't be afraid
Let those tears come
I won't go any where

The sound of the door
I heard you
I ran to you

But something is wrong
Please don't hold back
My heat will warm you
Just go on. Cry out

Do not hold back
Go on and weep
Promise, I won't leave you
Video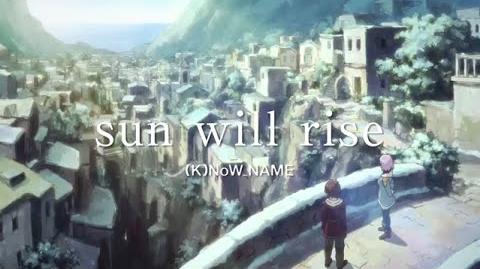 Ad blocker interference detected!
Wikia is a free-to-use site that makes money from advertising. We have a modified experience for viewers using ad blockers

Wikia is not accessible if you've made further modifications. Remove the custom ad blocker rule(s) and the page will load as expected.