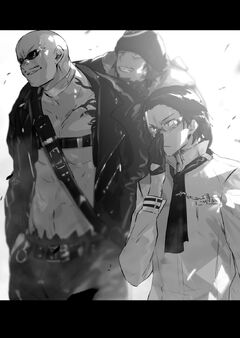 The
Typhoon Rocks
(颱風ロックス,
Taifū Rokkusu
) is a six-member party led by
Rock
and are a part of the
Day Breakers
clan. An incredibly strong team, they mainly fight individually with little coordination and oftentimes operate on the whims of their leader, Rock.
Tsuga, the team's Priest, mentions that it is common for their teammates to be scattered and coincidentally meet again.
Members
Despite his small physique, he is incredibly agile and strong. Proficient in boxing. Has a mirumi as a pet called Gettsu.
A bald-headed Warrior who wears sunglasses and is shirtless with a jacket. Though quiet, he is ridiculously strong. Usually gives thumbs up.
Member who wears glasses and surprisingly no armor or protection whatsoever. Self-proclaims to be the strongest Dread Knight, he is a strategist that dislikes people interrupting his fights.
He has a goatee and wears a knit cap. Though Kurou is a Warrior, he mainly use his skills from his previous Hunter class. His main weapon is the bow with superb accuracy and power.
He is the most bizarre member in his party and usually speaks in an erratic manner when assailing his opponents.
Described (by Kuzaku) as an Ojizō-san lookalike with some hair. Unlike his peers, Tsuga has the most 'common sense' in his team, but is unusually zen at moments he find interesting.