Kanto Region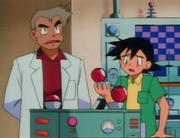 Years later, Ash began his
Pokémon journey
at the age of 10 as a warm-hearted and well-intentioned but stubborn, rash, and amateur
Pokémon Trainer
. He was forced to accept a
stubborn
Pikachu
from Professor Oak as his
starter Pokémon
because he woke up late on the day he was set to get his first Pokémon. He was determined to achieve his goal and when Pikachu saw that he was willing to compromise his own safety to keep it safe, the two of them formed an
extremely strong bond
that has been noticed and remarked upon by many characters in the anime. This unbreakable friendship would set his course for the future.
From that point, Ash still had a lot to learn about becoming a Trainer. The first Pokémon he caught was caught by luck, as he knew absolutely nothing about battling, and he was hesitant to admit when he was wrong. His journey was made even more complicated due to the presence of Jessie, James and Meowth of Team Rocket, who, after witnessing Pikachu's power, made it their primary objective to steal Pikachu for their boss, Giovanni.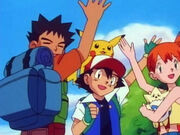 Upon challenging various Gyms, Ash started finding traveling companions such as
Brock
and
Misty
. On his journey he regularly encountered the wacky trio
Jessie
,
James
and
Meowth
of Team Rocket, who kept trying to (and still try to) steal Pikachu. He finished in the Top 16 in the Indigo Pokémon League Competition. During his journey he participated in a Pokémon race, was involved in a movie, got sucked into cyberspace and helped with the Flame of
Moltres
. Before heading to the
Orange Islands
, he picked up the
GS Ball
from
Professor Ivy
and bid goodbye to Brock who'd decided to stay with her.
Orange Islands
During this time, Ash was sent to the Orange Islands by Professor Oak on an errand to retrieve the mysterious GS Ball as the transporter cannot send it to Oak's Lab back in Pallet Town. Ash found out that there were Gyms in the Orange Islands and decided to challenge them,
winning a trophy for beating the Gym Leaders. During his time in the Orange Islands, Ash gained a new travelling companion in Tracey Sketchit, a "Pokemon Watcher", who observes Pokemon in their natural habitats and draws them in his sketchbook, and caught new Pokémon, 
Snorlax
and
Lapras
, as well. He battled the Orange Crew in a style of battling much different than what he was used to. Eventually he battled Drake and became the next
Orange Pokémon League
Champion. Upon Ash's return to his lab with the GS Ball, Professor Oak couldn't open it either and asked Ash to deliver it to his associate
Kurt
in
Azalea Town
in the
Johto
region, where there are also Gyms for the Johto Pokémon League. Brock returned and Tracey remained behind to help Professor Oak at his lab. Team Rocket tried to catch Pikachu again, but they were stopped by
Gary
.
Johto
Ash heard that there was a region called Johto and traveled there to find and catch new Pokémon unseen in Kanto. He battled the Gym Leaders there and caught the three Starter Pokémon, just as he'd done in Kanto. Brock returned and left Professor Ivy (for unknown reasons) and Tracey remained at Professor Oak's Lab. During this season, Ash won two badges for the Johto League, by facing
Falkner
of the
Violet City Gym
and
Bugsy
of the
Azalea Town Gym
. He also catches a
Shiny Noctowl
, had another battle with Misty and said goodbye to
his Charizard
as he left it
at the
Charicific Valley
so it could become stronger.
Ash won three more badges, but was delayed from having his sixth Gym Battle as the Gym Leader, Olivine Town's Jasmine, was preoccupied with caring for an ill Electric Pokemon, Ampharos, that fueled the lighthouse's power. Determined to get his Gym Battle, Ash traveled over to Cianwood City to get the medicine needed for Ampharos. Along the way he meets the Gym Leaders Whitney, Morty, Jasmine and Chuck, along with some new friends like Sakura, an aspiring Trainer and one of the 5 Kimono Sisters and reunites with Casey, whose Chikorita evolved into Bayleef. After his Gym Battle with Chuck, Ash and his mates traveled to the Whirl Islands on Chuck's suggestion to take part in the Whirl Cup Competition, a tournament for Water-type Pokémon.
During this season, Ash finally collected the remaining three badges to enter the Johto League by beating Jasmine,
Pryce
and
Clair
. He also met
Lance
and stopped Team Rocket's latest scheme at the
Lake of Rage
and brought a
Larvitar
back to its mother. In the Johto League, he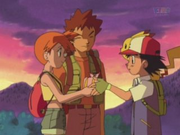 battled his old rival Gary and finally defeated him, bringing their long rivalry to an end, then fought
Harrison
from the
Hoenn region
, who had a
Blaziken
, a Fire-type Pokémon Ash had never seen before. To face it, Ash chose his trusty Charizard: the two Fire-types fought fiercely, but ultimately Charizard fainted and Ash lost. (However, Charizard managed to wound Blaziken badly enough to prevent Harrison from using it in his next match, which led to his defeat.) Ash then decided to travel to the Hoenn region, but sadly, both of his friends had to return home and thus would not be traveling with him this time.
Ad blocker interference detected!
Wikia is a free-to-use site that makes money from advertising. We have a modified experience for viewers using ad blockers

Wikia is not accessible if you've made further modifications. Remove the custom ad blocker rule(s) and the page will load as expected.